Feature by Brett Pike

​​The face of the Adelaide scene has taken shape. Progressively over the last couple years, more DIY entrepeneurs have thrown their hats into the ring and taken a punt on the growing scene and growing audiences across our live music. Roach City Records is the latest the join the party. By their own admission, they're a little bit of everything. A conglomerate of bands, live performance artists and a little bit of everything else making up their foundations. We sat down with the over a couple of dark ales to see just what the hell they're all about.
Having a chat with the guys (
Matt Ftinogiannis, Ben Williams, Stuart Watkins
and
Dylan Martin
), the first thing that comes to mind when you do a little background research on the group is the pure diversity of the bands that they (are in) and are working with. From a taster of it all, you've got alt-rockers
Chasing Claire
(who just dropped a new single below), you've got the rap-rock juggernaut that is becoming
The Real Mac Dimarco?
(who also dropped their debut EP below) and then thrown in the mix you've got a spacey, tripped out vibes produced by
Oriental Delight
. It was impossible for us to put a finger on what it all meant so it seemed best to get the guys to explain just what the hell was going on.
"
The Records thing doesn't necessarily it's a record label, it's still very early days,
" says
Matt
. "
The whole Roach City Records thing is basically an umbrella for all of us to come under, to market under, to promote under, basically to be a brand in it's own right. We have artists (non-music artists) coming to gigs to do performances as well and they'll come under Roach City too..."
"It's not really a record label, it's more of a collective. The only reason we called it a record label is because we thought it sounded cool haha,
" jokes
Ben
. "
We had a full on 3 hour meeting trying to decide if there was a label we could put onto this whole thing and you just can't."
Stuart
jumps in to say, "
Music is really the central focus of it all but on the other side of it you've got this whole multi-medium of things going on."
"I guess one sign you can put us all under is 'Under Construction' haha,"
says
Matt
.
The boys are no strangers to the scene as well, having themselves all been a part of band and producing their own work for some time now with Dylan and Stuart (along with their drummer Todd Warman) forming up the band Chasing Claire, Matt and Ben were both a part of the (now defunct) psych rock trio Roacher Poacher with Matt moving into producing his own beats in a DIY home setup (see video below) and Ben providing backup vocals and the bassmaster for The Real Mac DiMarco?

Aside from promoting their own work to garner a wider audience, the group/label/whatever you want to call them are also jumping on board for promotions for other bands as well. Anything from new releases that the guys themselves are digging, upcoming shows that they believe will be belters, anything that can give an artist some more exposure and share around the good vibes essentially.
"
As we gradually build an audience, to have that outlet there to share music out there from music fans to other music fans basically,
" says
Matt
. "
Even if (the band) is from fucking Japan ya know and I'm absolutely stoked about it. And it could be a new great band that you wouldn't have known about it unless I called you up you know?"
While everything from the Roach City Records artist collective is very in the baby steps of forming and shaping its own identity, the guys have drawn from their years as punters to find the gaps they've seen in the walls at gigs to find room for improvement, find out where something new or something else can be reworked to present a new idea and a new reason to get out to shows.
"It's all baby steps at this stage you know but for all of our gigs, Roach City will be presenting it all you know? With each gig coming up having it's own twist.".
Dylan
goes on to explain further, "
Which is why at the (recent) Chasing Claire gig we had the art installation, so to have something different and change it up. We have been talking about this heaps about some gigs being boring in a sense. We've had heaps of conversations about how can we mix them up. And Ben brought up the idea of having a Super Nintendo going in the other room or something like that. Just a whole lot of crazy ideas of things coming out at gigs and doing that sort of stuff.
"
"And to go with that we've spoken about doing something along the lines of a Roachfest sort of thing and we definitely think that's something we've got going on the horizon too you know?"
suggest Matt.
In the long and the short of it all,
Roach City Records
are a group of guys wanting to get their music out there, work together with other bands and other collectives in the scene to keep things fresh, to keep things vibrant and to share a mutual love of music and art along the way. If you need an artist for a gig, be it musical, live performance, whatever it may be, the guys are always there to help out and lend a hand.
As for roaches? What makes a good roach?
*All turn to Ben*
"Ben?"
"Ben?"
"Outdoor weed. Really good dope. None of that hydroponic shit hahah,"
jokes
Ben
.
"​I know nothing of the anatomy of cockroaches
," winks Matt.
And there we have it,
Roach City Records
. Hit them up on
Facebook
for more info. See you at a gig real soon!
Powered by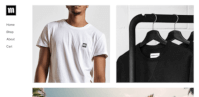 Create your own unique website with customizable templates.