Words by Brett Pike
You know your mate who's a bit of a dick and says that nothing ever happens in Adelaide and that things would be so much better in Melbourne or Sydney? Tell them to eat a dick and get out more. There's cool shit happening all the time. Exhibit A,
Ratfest
. Put on by the team over at
Ratbags
, the festival showcases a lineup full of local artists doing what they do best in the iconic
Queens Theatre
(home to the recent
AIR Awards
and upcoming
Stonecutters
) on Playhouse Lane. We shot some Qs over to leading man
Connor Jolly
about the state of the game and what to expect next Friday night.
Having launched earlier this year and featuring a trio of single launches from local favourites
Zen Panda
,
The New Yorks
and
Ron The Ox
, (the first two with EP launches this month you should be at), it's fair to say that the Ratbags crew have a fairly sound idea of where the Adelaide scene is at in this day & age. But what is
Ratbags
all about? Is it just a bunch of punk kids going their own way?
Connor
divulges, "
Haha, you've pretty much nailed it! Ratbags is all about having a good time. Whether that's you screaming your lungs out to 'Killing In The Name' at 2am on the D floor, catching a new band's single launch (
which we've seen at previous installments
) or moshing at the warehouse party, we just want to create good times."
Having thoroungly enjoyed ourselves at last years two-day installment of
Stonecutters
, it was slightly surprising to see the festival move towards a single day lineup at this years event. However it has presented itself with the ideal launchpad for a similar all local lineup, to take themselves to one of the biggest environments in Adelaide and showcase what they're all about. It's not shock then once you look over the bill at
Ratfest
to see a lineup full of artists already making a name for themselves, and artists you will be hearing a lot about in the very near future.
"Ratbags is all about the local scene, we wanted to curate an all local lineup to bring forwad some of the amazing talent we have coming out of Adelaide and put them on one of Adelaide's biggest stages. It's not something that a lot of locals get the opportunity to do" (
on playing at the
Queens Theatre
)
.
"
We wanted to bring forward some of the locals that we feel are going to be doing massive things in the coming future. Some are just starting out and some have been around a bit long but they're all on a massive upward trajectory in our opinion!
(on the process around selecting the lineup).
There were a few bands like Zen Panda, Bec Stevens, Bermuda Bay & Druid Fluids where all band I would have loved to see on the lineup
(but were unavailable for the show)."
Upon first glance, the lineup is an absolute belter and an absolute massive kudos goes out to the Ratbags team for chucking together something we can all sink our teeth into. Upon a second glance though, one thing to note was that with the exception of
HUNT
, it is a male dominated lineup. One thing that has become a more and more obvious issue surrounding the music industry, not just including bands on a bill, is gender diversity. In the past (and still currently see
this article
on
Regurgitator
from April) lineups have been dominated by artists sporting a Y chromosome with little to no room for female artists on the bill.
Now we understand as well as many do that it is not that simple when booking artists for a show and you are more inclined to book someone on whether or not you like their music. But including a diverse lineup is important in an industry where over 74% of
Splendour In The Grass
and
Groovin' The Moo
lineups are dominated by all male artists (see
University of Sydney's
report
Skipping A Beat
for more information).
"It was something that we were conscious with when curating the lineup. Unforunately some of my favourite female artists I would have really loved to book weren't available for the particular lineup
(
Bec Stevens
being one already booked for
Stonecutters
the following night).
There's so much great talent coming from all genders in Adelaide, you can absolutely expect to see gender diverse lineups dropping
(at future
Ratbags
events)."
"One sneaky advantage of curating your own festival lineup is the ability to sneak your own band onto the bill at will (well done
Connor
and
Chinese New Year
better smash it no pressure). But the particular lineup does boast a plethora of talent coming out at you in every direction. "
All of the bands know how to put on a great live show
",
Connor
mentions "
I'm reaaally excited to watch HUNT and LEO. Both artists make incredible music and I haven't had as many chances to see them live yet so getting super keen to see them
!
Historically known for going through peaks and waves of talent and boom periods, filled with intermittent sluggish blocks and periods of dormancy, it appears that the Adelaide scene is kicking on only onwards and upwards from now (including the last couple of years). We don't have to look far to see locals making a serious name for themselves away from home.
MANE
is currently on tour throughout the UK and next onto Germany.
Donnarumma
just toured their debut EP
Billy Billy
across the east coast to rave critical acclaim. It's a massive period for Adelaide, host of the national
AIR Awards + Conference
for the next two years as well!
"The Adelaide scene is going CRAZY right now! So many great things are happening with local curators and creative at the moment. I'm very proud to be a part of such a thriving and supportive community (that) we have.

I think the saying goes, 'A rising tide lifts all boats'. I think the more the local scene continues to develop and grow, the more talent we will see. It gies more opportunities to artists who might not have had the platform or exposure otherwise. I'm very excited to see what the future holds for our scene!"
No stich ups, just great times to be had. We will hopefully be seeing a lot people heading down to the Queens Theatre next weekend for both Friday and Saturdays bills, with it being a massive weekend of live music all across the city. In terms of stich ups, are there any greater stitch ups than the
2003 Australian Idol tradgedy
? (To be honest the video still brings me to tears)
"Foooooooooaaaaaahhh honestly, this question is a stitch up because how do you top that stitch up!? I think even Gocksie would agree..."
Powered by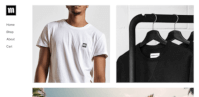 Create your own unique website with customizable templates.