Words by Brett Pike
A mash up between two favourites, just like a delicious AB,
Moonhunter
is the combination of
Tomorrow Rising's
guitarist
Steff Esposito
on lead and
Slick Arnold's
very own
Jack Crawford
taking over the drums duties. Not even a year since their inception, the duo have knocked out a bunch of shows are set for their debut single launch this Friday at the
Crown & Anchor
.
​
Moonhunter is raw. Moonhunter is banging in your ear drums. It pulses through your veins and will snap your neck into rhythm. Of the new bands coming out each year in our town, Moonhunter has certainly been one with the longest origins and they have certainly been well worth the wait.

The incestuous nature of music communities around the country means that at some point in time, everyone will eventually end up playing with, forming a band with, featuring or getting to know each other on a professional and personal level. Anybody who has met Jack and Steff would tell you there's a secret love affair going on between them, it was really only a matter of time before it was made public.

Steff: Man, Moonhunter is something I've wanted to do for a very long time and the thing holding me back was that we, as the scientific community of Earth are not able to clone ourselves yet. I wanted to front my own project but I couldn't sing for shite, so originally I asked Max from TR to drum for me while I get things going. Then I just decided to make it a 2 piece and booked a show and threw myself in the deep end.

Jack: Well we both used to write stuff a few years ago when we studied together at MusicSA and throw ideas around and Steff was the one that went through with it and put in the hard yards to make his ideas into a band unlike myself.. So when Max had to leave to pursue other things it just felt right I guess.

Steff works 'Uckin hard pardon my french and writes a lot and always puts a lot of work into his melody writing and such. I pitch in where I can coming up with more arrangement ideas and such which seems to work really well. I can't write guitar riffs like Steff can unfortunately.

Steff: Jack is probably the most talented musician I have met. He can do everything. The fact that I got him on drums and doing backing vocals behind my main vocals still blows my mind. Because he hadn't been a drummer in a band before and I'd never sung, it was (and still is) really exciting challenging the unknown. He heightens the songs I write with intriguing harmonies and tweaks to the vocals or even some of my guitar lines.


It's a high energy duo, with only their single teaser to go on (see above) you can grab a taste of what is to come. With a multitude of two piece bands making massive waves internationally, (
Royal Blood, Japandroids, DZ Deathrays
, need I say more?) encompassing a huge sound that will a room and keep the buzz going is one of the key overriding factors for these outfits and it's so fucking good when the vibes are high and the room is bouncing as the boys going on to say;
Jack
:
Well well well Brett, I know it's what everyone is wanting to hear cause it's pretty exciting stuff. We bring the loud, the groovy, and the intimate for all kinds of people. It's always a pretty fun time at a Moonhunter show and it's even better when Matt Hills is on sound. It's very different playing in a 2 piece setting and gives a cool vibe to the shows.
Steff
:
You never know what note i'm gonna hit! Haha nah but I put everything I got in to every show so you will not be leaving without a buzz in energy flowing through ya' & I've been told we have excellent stage presence!
​
The launch show this Friday night alongside
Tough Boys
and
Rat Ta'Mango
is almost certain to pack out the room. Not only is
Moonhunter
built from two of the most hardworking, friendly guys in music, they've also taken their time in picking complimentary bands, both powerfully impressive and bursting with talent in their own right.
Steff
:
Rat Ta'Mango are cool dudes and really easy going so it's always nice to play with them. Tough Boys are pure entertainment in the best way possible. The perfect way to kick off the night and get the crowd in a good mood!
Jack
:
Rat Ta'Mango are homies from way back, Slick Arnold have played with them lots and Moonhunter have now too and I love em and they're great dudes. I personally haven't seen Tough Boys but I've heard a lot of good things and am keen to see their live show cause I hear it's off chops.
​
You can catch the launch party this
Friday night at the Crown & Anchor with the doors starting at 9pm.
For less than the price of a pint, you're in for a fucking great night. We'll see you there!
Powered by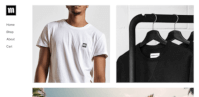 Create your own unique website with customizable templates.