Feature by Brett Pike

From a Loopcore specialist and Lowrider anniversary support, to touring nationwide and getting engage in New York City, Luke Carlino has plied his trade wherever his feet take him. Coming up to one of the major landmark's of any artists careers, Carlino is releasing his first collection of songs in his debut EP Islands, this Friday at the Pirie & Co. Social Club alongside his mate, collaborator and an artist also releasing a debut, Joe Braithwaite under the guise Ripley.
Growing up musically gifted is a wonderful thing. Like many things it can help give you focus, direction, provide comfort when you need it and help express many parts of who you are that are otherwise difficult to see.

A song can be heard by a thousand different people and affect each person in a unique way. Music is one of the most powerful tools on the planet because whether or not was it's intention, it connects to the core emotions of us as humans and allows us to sit, listen and just feel and be in the moment.


I think its ability to not only convey but elicit emotion is pretty special. I saw Sigur Ros play at Thebarton Theatre a little while ago and the theatre was full of people who were in just in tune with the music, everyone was sort of connected and just engrossed by the sounds that this band were making, they don't even sing in English but everyone in that room was feeling something that night, that's pretty powerful, I can't think of anything else that can do that to that degree.

I don't think I really write with any intention initially, other than just writing a song that I like, but for me music is extremely emotional so things just kind of pan out that way. As far as inspiration goes you are spot on, I think I draw inspiration from the emotional reactions to certain situations, it's a good place to start at least.

Having released the EP titled track Islands back in 2013, you can find one of his earlier gems in a video below, the road to release has been a long process for the musician. We wanted to know what makes the man behind the music, who is he and what makes him tick?


I've been thinking about this for a few minutes now, this is hard to answer! For some reason I want to say "pizza" as one of the words even though I know pizza is not a describing word......let's go with "Dog-loving, pizza-filled, cartoon junkie with a guitar." That's more than five words. I'm terrible at this.


As previously mentioned, during Carlino's launch show, another artist by the name of Joe Braithwaite, stage name Ripley, will also be releasing his debut extended play Bigger Than Me. Having been mates for a couple of years, Carlino "head hunted' Ripley to feature on his track Making Maps, with the duo coming up with one of the more powerful tracks on the Islands EP.


I opened up some shows for Lowrider when they did their 10 year anniversary run and after the Adelaide show they took me to a strip club and we have been buds ever since. That really happened.


But also, in my humble opinion, the musicians in that band are some of the finest this country has ever produced so I head-hunted Joe for this track because I knew whatever he put on it would be rad. I'm also lucky enough to be working with John and Paul from Lowrider who are producing my next record.

Hometown launch shows, hometown buddies, hometown collaborators, the added bonus of living in Adelaide means everything that is good and grand in the city is only a couple of minutes away. Same goes for the best bars and venues in town with so many packed into the CBD and surroundings.
I have to say the Grace Emily, I've not only seen but played some great shows there, it is intimate yet sounds amazing, it's like the truest live music venue Adelaide has. It has character, plus for some reason it just feels like that late-90's Aussie music scene that I grew up with.
Which places in your life do you hold particular significance to? Not necessarily your favourite places to go to but the ones you will never forget for one reason or another.
New York would have to be one, I've been there a few times and always had amazing experiences, on my last trip there I not only got to play but my girlfriend and I got engaged there, so that city will always be special to me. I also really love Melbourne, the creative side of that city has me. I really have to tip the hat to little ol' Adelaide though, it's my home and we do pretty well.



And the best and worst decisions you've ever made?

I really was not prepared for this deep line of questioning. Ummmm, *lays on couch* best, buying Nirvana's Bleach record on special which led to me picking up a guitar, worst.......I wore a very shiny blue shirt to my 18th birthday party offset against bleached blonde hair which I have always regretted.
Powered by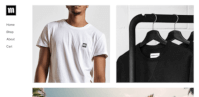 Create your own unique website with customizable templates.