Feature by Brett Pike

In this, the first part of our two bit feature with Angela Vagnini of The Serra, we will be focusing on their upcoming showcase gig at The Producers Bar entitled Kooky Million with many of Adelaide's finest bands, transcending genres and for less than the price of a movie ticket.
Friday afternoons, down by Henley beach, with the rest of the in crowd at Baccus Wine Bar, we caught up with Angela, lead singer of The Serra, and had it not been for the fact we had places to go, we might well still be there chatting music and having a couple of drinks.

The concept around the Kooky Million show will be to engage and expose every single person there to new bands, a great atmosphere and most definitely some incredible people who love having a chat and having a drink. With the opening of newer, larger venues in the city, the introduction of lockout laws and their effect on the nightlife as well as more stringent requirements of live music venues, it has never been as tough as it is right now to make it as a musician.

The biggest and most noticeable difference with shows, has been to ability to draw numbers and regularly keep those numbers coming in through the door. Convincing punters that it is possible to start your night out at a gig, meet some amazing people, before heading out for a bit of doof doof is harder than ever. Every live show is different and new and exciting and a completely unique experience as compared to the same 6 nightclubs playing the same 20 songs on repeat. But enough from us, from here on you'll be hearing straight from the woman behind it all, Angela Vagnini.



Angela: I think it's definitely a concern, I'm in the scene, you have everybody wanting to come out to shows and we've been competing with bigger acts and now we're competing with changes to legislation as well.
There's pressure as well from the venues to reach capacity, and now there's been bigger bars open up such as Fat Controller which won't be for local bands that I guess are around that entry level stage. That's a big concern for me and when these new laws come into play, it's going to be even harder to the scene alive and healthy.
For myself, I never hate going out and just watching a couple of bands play. You'll either find it extremely entertaining because the person is shocking, or you'll go there and there will be people there just like you tagging along to see some bands. They all want to chat to you, I've never had anyone be rude to me at a live show!

Brett: I've met some of my best friends at live show, you turn to the person next to you "Hey! You like the same shit I do, let's be friends!"

Angela: Right! And that's the lucky thing about Adelaide, we have so many people who are so friendly, and they're there supporting someone too. There's this mutual agreement that this is awesome and you feel like a big family even if you don't know them. That's one thing I wanted to highlight, and I know bands have in the past and they will continue to do so, we need to promote it as much as we can.
That's why I decided to choose such a big lineup with an array of different styles to hopefully give people a taster of what is out there and what you can be doing for half the price of a movie ticket. I went bowling the other day and it ended up costing me $27.

Brett: Movie tickets cost as much as $25 these days, entry to most nightclubs can be around $20 and I don't want to go hear someone play Top 40s hits with a bassline all night.

Angela: Exactly! And when you have a gig like this one, $10 presale tickets, and you're watching at least 4 hours of entertainment within close vicinity of alcohol (drink responsibly), and you've got a whole range of people there to do something cool you know.
I guess it's sad to be mislaunched, and with the way things are going this may not be a thing in the coming future and that's something I don't want to happen if I can help it. That's why the bands have been carefully selected, I've seen most of them live and they're awesome bands live just by themselves too.


Brett
:
I mean for me as a punter this is also great too because I've only seen The Serra on the lineup and haven't seen any of the other bands before. I think that's the great thing about a showcase gig where you can go and only know one or two of the bands playing but you can check out the other three, four, five other bands on the bill and you are guaranteed to find a band that you'll like on there.
Angela
:
Another great thing about the show will be the set times. The bands are really only going to be playing about half an hour sets so it's a bit of a taster. You're not going to have to stand around for hours if you don't like a band. You can go outside and grab a beer and when you finish there will be another band playing that you can check out.
Angela
:
The best thing about the bands we've picked on the lineup too is that they all believe in this as well. This isn't for money, the show only costs $10 so that's apparent, and there's seven bands and there's more than one or two people in every band so.
It's been fantastic to get a venue behind us, and how fantastic Matt and The Producers Bar have been with the show. He's been really good. He's thrown in a lot of stuff and checked in with us regularly and that's just such a cool thing to have from a venue, they've been really nurturing in that respect which we appreciate a lot.
​
Obviously, first up, Prophets of Impending Doom. Favourite song is Yiros by far. And every time I see them I tell myself "Nope, I'm not moshing, it's not happening. I'm wearing heels" and when that songs comes I'm like "Someone hold my shit!" and I'll throw my bag at someone and jump into the crowd. It's such a guilty pleasure song.

Their songs are ridiculous and always about weird crap like A Baby Ate My Dingo. Larry just writes some crazy lyrics on purpose. And they're a SKA band where Larry kind of raps a little bit while he plays trumpet at some points. They're such an interactive band and it's impossible to stay still throughout their set.
Across The Atlas. They are kind of like a punk rock kind of feel. They had a digital release with an accompanying clip, I think it's called Don't Hate The Player, Hate The Referee. For me it's one of those 90s punk rock sort of direction, and with Penny having such an awesome voice it gives another take one it too. She is that cool rock chick and brings a strong feminine vibe to it.

There's plenty of female fronted bands where they take control and show off a bit of masculinity and power to it, which is cool, but I think there's also something awesome about a girl who can rock out in jeans and a tshirt but also wear a pair of heels and be a little bit dainty and feminine. I think Penny is a really cool representation of that. They're all really cool people in fact and they'll probably have something cool coming out soon.

​We've played with Little Lotus before in Melbourne (the only non-SA band), and they came over to us at one point last year when they used to be called Clarke & White. But when they were Clarke & White they didn't have the female lead that they have now, it was another band member that was the lead. They've now released an EP with Pru on the lead, I think it's four or five tracks, I have a huge girl crush on her. She's amazing.

They are awesome, they were essentially art rock and they encompass these really big crescendos that happen throughout the song and I think with Pru's voice, she has such a big range and hits these real high notes that just sit about the mix and it's so cool. Even though the previous singer was awesome, I think now that he does his own little harmonies with her and these counter-melodies, it's just really makes the music a whole lot better and takes it to a whole new level.
Skythief are the only band on the bill who I haven't seen before, but I've heard really good reviews from them and I know that online they have a really good support around their releases. The guilty pleasure of organising a show is that I can put a band on the lineup who I've always wanted to see, and it gives a bit of that heavy side of rock where it's in between hard rock and metal.
House of Jade are really really cool and I don't know why more people don't know about them. They are just really cool dudes and they're so young, the upside is amazing on that band.
Sword & Stone, really cool fact about them is that the lead singer is actually their drummer. They definitely have that 90s pop/indie rock feel and they have really nice pop hooks and melody lines. They've done some really cool things in their time, they did once open for Nickelback and The Angels and Thirsty Merc.
The
Kooky Million
show will be happing this Saturday, the 26th of March at The Producers Bar with a stellar lineup! You can contact any of the fine bands playing, or Bakehouse directly for some sweet sweet $10 pre-sale tickets, or else they will be avaible for $15 at the door.
Stay up to date with all the event information via the
event
page and we will see you there!
PS Part 2 ft. Angela will be coming to you very soon!
Powered by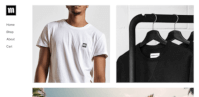 Create your own unique website with customizable templates.