Feature Article by Alastair Farr

Last Saturday night at the Metro Hotel, I experienced the performance of a combination of bands I will never forget. It was the launch of the Cabin Cults' first EP. Although having released two singles towards the end of 2013, this EP has been a long time in the waiting for both fans and the band.
LIVE REVIEW of CABIN CULTS LIGHTS OUT LAUNCH

It was a comfortable summer's night that night. The air was still, but spirits were high as me and other people at the Metro awaited for the first band to begin playing. Colour Machine, who took to the stage first, did not disappoint.

It was my first time experiencing the riffing mechanisms and rhythmic engines that is Colour Machine. For such a young band (17 or 18 years of age at a guess) they played with such unexpected tenacity. Imagine the high reaching vocal lines of Wolfmother with the similar musical thrust to the face that the likes of the Mars Volta offers. I really tip my hat towards drummer and lead singer Anthony Donato, whose stage presence and energy really lead others in the band to follow suit.

There were some aspects about their performance that night that I think could have been refined. As I said, drummer and lead singer Anthony radiates a lot of energy; but, on the smaller stage the Hotel Metro offers, I felt he was hidden behind guitarist Tom Burton and bassist Lewis Trainor. This factor I thought restricted him from connecting with the audience to the extent he could have and I would really like to see in their next gig for the drum kit to be pulled forward to have Anthony more front of stage. But I truly look forward to future gigs from Colour Machine. As a young band they have so much time and room for growth it excites me to wonder at the things that could be ahead for them and the possibilities of music they can produce.
The next musical encounter that night was one of the most intimate I have ever experienced. It all began with a movement of people who began sitting and laying comfortably across the floor of the Metro. Others joined, myself included, welcoming social change from having to stand up for a while.

Then something perfect happened to compliment the chilled atmosphere, and that was the sound of Koral and the Goodbye Horses. The band began their set with songs of heartache, and worked their way to rockier things.

​Beauty and carefully placed intensity are the words that come to mind when I think about their performance. Koral and the Goodbye Horses have a chilled blues rock vibe to themselves, inspired by the likes of Nick Cave and the Bad Seeds. In fact, they played a Nick Cave cover that night. The rhythm section was perfectly tuned in with each other. The keys playing of Aaron aided in filling space and often provided a platform for virtuosic like guitar work by Django. On top of all this was Koral's voice that offered so much heartfelt phrased melodic goodness.

I remember a specific moment in time when I looked across the room reflecting on the intimate setting that was happening in front of me. People were sprawled across the floor grouped in friends, families and couples. Some were cross legged, one person was laying completely flat on the floor, but we were all united in awe, sitting like a class of receptions, taking in the sound s of our teacher: Koral and the Goodbye Horses.
The moment in time finally came about for the Cabin Cults to showcase their stuff…. And they absolutely rocked it. The band began the night with their tune We All Died, instantly showing off their unique sound rooted in riff motivated rock infused with electronic synth and sounds.

No longer were there people sprawled across the floor of The Metro, everyone were up jumping, dancing, head nodding and felt the need to approach closer to the stage. Everything about their performance indicated that the Cabin Cults are a well-rehearsed and experienced band, as every band member was on form that night.

A lot of the band's driving power in their sound stems from the keys playing of Angus, where he plays many of the lines a bass player normally would with innovative electronic sounding embellishments on top. Drummer Rupert also acts creatively with an electronic drum pad at his disposal whilst holding everything together. This Rhythm section combined with the raw and heavy guitar playing of Tim and lead singer James' perfectly suited voice for the genre produces a sound that is unique to them, but a sound that I believe is very now.

I'm very excited of what could possibly be in store for the Cabin Cults; I enjoyed their head banging riffs and catchy one liner lyrics. The greatest example of this can be heard with their tune Light's Out, which was the song they ended on that night. Other highlights of the set included a cover of R. Kelly's Ignition (I had absolutely forgotten how much I liked that song) and the formation of a human pyramid by the crowd, enforced by guitarist Tim.

So, from exhilarating rhythmic mechanisms, to blues inspired beauty, to powerful head banging tunes, last Saturday night was a perfect array of acts. Earlier that week I had managed to catch up with the Cabin Cults to talk about the band and their sound. The following conversations resulted….
INTERVIEW: CABIN CULTS
The Bakehouse:
How long have you guys been together? Tell me the story of how the essence of the Cabin Cults came together.
James:
Cabin Cults, we released two singles at the end of 2013
The Bakehouse: Was We All Died one of them?
James:
Yeah!
Tim:
That one's way more of a banger now. I think we probably opened with that one that night with the Jungle Giants and it's so vastly different now.
Angus:
Yeah it's much more rock, it's pretty wicked.
James: Yeah so that was at the end of 2013, so the three of us (gestures at Rupert & Angus) are brothers. And Tim's not…. (a brother)
(Rupert & Angus chuckle)
Tim:
Tim's not…. (shakes his head)
The Bakehouse:
You look like you could be part of the Family Tim
James:
He's the cousin!
Angus:
Yeah he's the tan cousin
Tim:
Yeah a sunburnt cousin (All chuckle)
James:
So initially it was just me and Gus. We'd been in a few other bands before.
The Bakehouse:
What were those bands?
James:
Years ago was the Warsaw Flowers. That band did well, we were a feature artist on triple J unearthed. So Gus and I split from that and the other two guys in it, Jeremy and Alister….. Alister is now Blush Response, so he was our housemate. And Jeremy Lake, I don't know what Jeremy's doing now….
Tim:
He's in most bands I'm pretty sure. I'm pretty sure….
James:
Yeah he just turns up to drum and trumpet.
(All Chuckle)
Angus:
They were the 20th Century Graduates for a period of time, they were great and played with Ball Park Music and all those kind of guys. They were really that 7-piece like extravaganza.
James:
So they did that and we did something called the Leitmotif which was garage, sort of surfy stuff, which we had fun with. It wasn't really …. (pauses)
Angus:
What we wanted
James:
…. (Continues) What we wanted to do. So we kind of drew a line through it and then afterwards Gus and I were working on this idea of things being a bit more electronic and a bit more riff sort of rock n' roll is what we wanted because we kind of missed riffs. Gus and I were toying around with this.

Finally we thought fuck it, we were having trouble finding people who wanted to play what we wanted to play. Everyone was going a bit more ambient electro at that stage and it wasn't really us. We liked something that was fat, kind of like the analogue synth we had with the other band where they only really played a minor role. So yeah, we wrote up a few tracks and then recorded them here, we tracked them with Matt Hills, Hillside.

And then we sent them to the guy…. Can't remember his name but he's a great guy, he did Midnight Juggernauts here. So we sent him these raw tracks, We All Died and Two Steps and he polished them up. So it was kind of like one was a bit more rock and one was a bit more soft, just to see what people liked hearing us do. And more people liked two steps so we thought fuck it, we'll write much more songs in that sort of big electro, rocky style.
(Angus has to leave the interview for a meeting at this point)
Bakehouse: So at what point did Tim and Rupert come in?

James: Roo jumped on board with bits in the studio to help us with drumming.
Tim: These were just guys who came into the guitar shop I used to work in all the time and so a friendship formed from that. Then we caught up for beers one night and then they said, 'do you want to come and jam?' so we jammed.

The bands I had been playing with had totally fallen off of the edge of the earth, and with these guys (the Cabin Cults) it just totally worked. The first time we jammed we said cool let's do something! I then got a team jersey and so it was really quite natural.

James: Then we went into the studio but we had a fairly big break. Our mother got really sick, so that delayed everything, because those sorts of things do and so the inevitable occurs where we're not really gigging every week. Which was why there was a huge delay between the end of 2013 when we were putting up these tracks to when we went into the studio first with Mario end of 2014.


Bakehouse: Something quite interesting is that you guys don't have a bass player, so Angus fills that role while playing keys at the same time, was that a natural progression of things or was there an original thought there involved?

James: So he (Angus) is a bass player. So he has a massive collection of unused basses lying at home which is sad for him.
But the reason being is we wanted that tone…. If you ever listen to like club music, live music, you get a lot of those big driving basses. And when you're getting a bass with the strings and pedals and the things we used, it wouldn't recreate it. Yet, we got the Dave Smith analogue Synth and we could get those tones and have it fill the room. So he had to quickly learn how to play keys….
Bakehouse: So he didn't play beforehand???
Everyone: No
Bakehouse: That's crazy!
Tim: It was totally pushed on him.
Powered by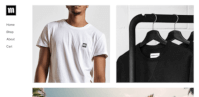 Create your own unique website with customizable templates.