Feature by Brett Pike

The bromance is well and truly alive between the trio of funk rock babes Slick Arnold and the high octane lads from Tomorrow Rising. From sharing a stage to sharing studio time together to sharing beers and the like, both bands have been working hard as a unified group for a couple of upcoming releases including the double single launch at Punk Ass Kids this Wednesday.
A year and a half in the making, Slick Arnold have delivered to us a brand new single in PV following the release of last years tasty tasty EP One. With sleight of hand and strong guitar riffs combined with groovy bass rhythms, PV is a moody track that needs to be seen live to be appreciated because it will send shivers up your spine when you experience it.
Likewise, Wolves At Bay is the stand alone single by the lads from Tomorrow Rising which takes off from their last release, their Oasis EP, which was launched at a riotous show at The Producers Bar in December last year. Like a punch to the face followed by someone handing you a beer, Tomorrow Rising wield a brand of alt rock that will hit you hard but will always keep you coming back for more. It's infectious. In the good kind of way.
Ahead of the double single launch that will he happening at Punk Ass Kids, we wanted to know just how deep the bromance goes between the two bands, particularly the obvious love that
Jack Crawford
(Slickies) and
Steff Esposito
(Tomorrow Rising) share for one another. We caught up with the bands after their recent
Thrillhouse
double bill and here's what we got back.
That Thrillhouse show was immense! Especially since the two bands have such good chemistry. What's the best part about playing shows with each other?
Slick Arnold: The Thrillhouse show was incredible! Playing shows with TR is always an experience. They definitely know how to turn on the banter. They always pull great crowds too (which we usually rely on).

They are really top dudes who are always down for a chat and a beer. The three of us have all the time in the world for TR and hope that we can continue to steal their crowds long into the future.
Steff (Tomorrow Rising): It's so easy to organize things, because we are good mates, we often grab beers and can easily sort out any ideas and share gear for when we play a show. I also nerd out and froth over tantalizing guitar pedals with Jack. If you've seen Slick perform live, they are obviously a very hard act to follow but I think the fact we are a 5 piece and have a heavier style makes up for it dynamically I guess.
Callum (Tomorrow Rising): Exactly what Steff said. We've been good mates with these guys for a while; it doesn't get much better than having beers and playing with some good mates. It just sucks for us that they're so good live…
Both bands were in the studio the other month, besides the Punk Ass Kids, is there a couple of new EPs on the way?
Steff: We have a couple of singles under our belt. A tour may come of it but nothing is set in stone yet.
Slickies:
We have a three track EP coming out later in the year. We're always working on new stuff though and plan to release something more crafted and refined next year.
The Tomorrow Rising EP launch last year, all four bands that played that show, Young Offenders, The Chase, TR and Slickies; since then all have really kicked on into 2015. Do you take pride in having not only played with bands who are doing really well, but also putting together a show where everyone have all taken positive steps forward since then?
Callum: It's awesome to see how well each of these bands have done this year. And it's been sweet getting to know the guys from Young Offenders and The Chase too. We're heaps proud of how the show went and we're stoked to be able to play alongside them, but their success definitely wasn't a result of the show. Those bands were killing it before and work heaps hard, and they're reaping the results.


Steff: Adelaide has a lot of great bands and we just want to have beers with all of them.

Callum: Yea, preach. Get the beers in.
(Feels like) It's been years since a Slick Arnold release but now the ball seems to be rolling with more shows, bigger shows and a lot of buzz about Slickies. What's the future looking like right now?
Slickies:

The near future is hopefully looking pretty slick (pun most definitely intended).

Like we mentioned before, we're looking forward to a more developed release next year. We're pretty keen on some interstate shows too.
Mainly we're just looking forward to growing and improving as a live band. We've got a killer line up of shows in the next 6 months so it will be good to use that time to really focus on live presence.
Who's the best band to play with, besides each other, in terms of atmosphere and just a general good fucking time?
Slickies: Jungle City, The Prophets of Impending Doom, The Overview Effect – All bands that are killing it, doing something that's different and exciting. The Prophets are a flipping incredible live band too. We've been lucky enough to play with them a few times in the past. Tight as a freshly vacuum-sealed salmon fillet.
Steff: Young Offenders are damn fun to play with.

Callum: Totally agree. They like to have a drink or two and their live energy is second to none. We also recently played a show with Dead Joe at Enigma, which was a really well run show. I also have to mention gigs down at Brighton Bar or Jetty Bar, Glenelg. We're all from that area, so playing shows in Brighton and Glenelg with the likes of The Numbskulls and Beaver…. That old- school Punk- Rock scene is so much fun and we always end up having perhaps one or two many.
Who'd be most likely to get a massage with a happy ending while on holiday in Asia?
TR: Max would give it to Kierren.
Which foods would best describe each of you three?
Slickies:
Mitch is a twiggy stick – Good body, firm, slightly spicy and not cheap.
Peter is Rye Bread – He's boring, tasteless, but good for you. For your health.
Jack is Guacamole with a water cracker leaning gently on the side – Creamy on the inside, lots of flavor, he's zesty and he's good with Mexican food.
One member from each band, who'd be most likely to run away with each other and what would be the soundtrack to their lives?
Slickies:
Jack and Steff, no doubt about it. Jteff. Sack. Whatever power couples are being called these days.
Their theme would be 'You Make Lovin' Fun' by Fleetwood Mac o
r 'When My Baby Goes to Rio' by Peter Allen.
Either or.
Callum: Steff and Jack, hands down… The Soundtrack? Tom Jones 'It's Not Unusual'. That's a disturbingly romantic image…


Steff: I've already proposed to Jack.
Where do you see the Adelaide scene heading in the next couple years and which bands will be at the forefront of the charge?
Steff: I hope guitar music stays prominent. Thinking over the last couple of years I'm not quite sure what to predict. You'd better ask the earliest of early adopters.

Slickies:

The Adelaide scene seems to be growing and expanding all the time. Hopefully bands that are pushing the boundaries keep getting backed and supported.
It would be so good to see crowd at local shows keep growing too.



Callum: It's a really exciting time for Adelaide music. There are a lot of artists doing some really cool things. Not only that, there are a heap of cool initiatives starting up too, which are being received well. It's all turning into this really cool hub of vibes. Adelaide's definitely coming out of its shell and we're loving being a part of the fun. Who will be on the forefront of the charge? Eddie Betts of course….
Powered by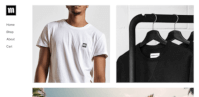 Create your own unique website with customizable templates.