Feature by Brett Pike

​​The face of the Adelaide scene has taken shape. Progressively over the last couple years, more DIY entrepeneurs have thrown their hats into the ring and taken a punt on the growing scene and growing audiences across our live music. Roach City Records is the latest the join the party. By their own admission, they're a little bit of everything. A conglomerate of bands, live performance artists and a little bit of everything else making up their foundations. We sat down with the over a couple of dark ales to see just what the hell they're all about.
Powered by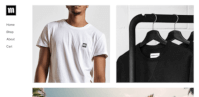 Create your own unique website with customizable templates.